Sitting in one of the global centers of power, influence and immigration, we have the unique opportunity to put unjustly marginalized languages in the spotlight.
Unheard Of! presents live readings of poetry and oral literature, both traditional and modern, by native speakers with simultaneous projections of texts and translations. The presentations employ theatre, music and dance by way of introduction to these rarely performed pieces.
Come join us on Sept 29th from 1:00-3:00 pm at Bowery Poetry for the first installment featuring poetry and stories from five local languages of Indonesia as presented by native speakers:
Ngaju Dayak (Kalimantan)
Tontemboan (North Sulawesi)
Betawi (Jakarta)
Aceh (North Sumatra)
Bugis (South Sulawesi)
Purchase tickets (a mere $10) now at:
https://unheardof.brownpapertickets.com/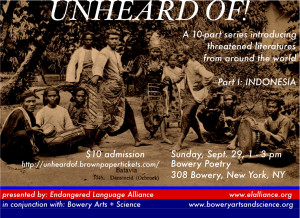 Presented by the Endangered Language Alliance in conjunction with Bowery Arts and Science.